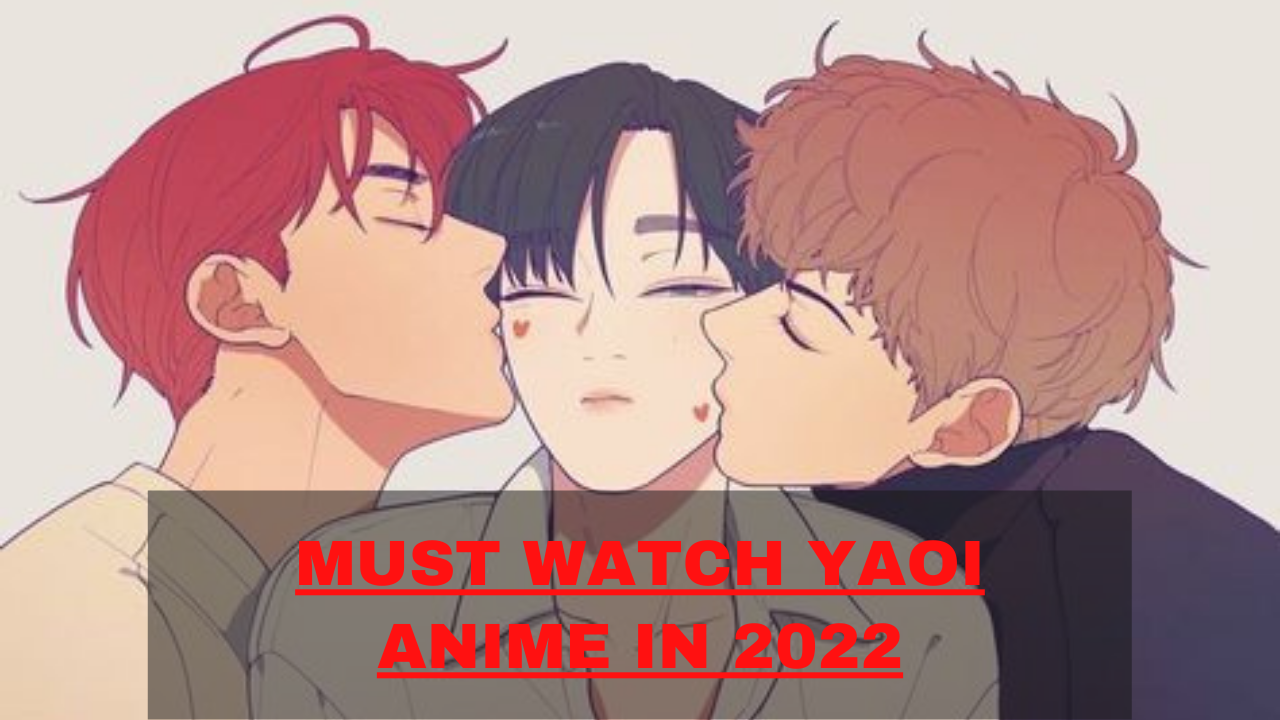 Mar 15 , 2022
From the fluff animation to the steamy scenes, here are the best yaoi anime to get hooked on in 2022 
The fujoshi family rarely gets served their platter of yaoi in the anime calendar, but the good news is that yaoi anime are animated far more frequently than usual.
The female majority appreciates BL; while some might say that yaoi love can look toxic or forced, others feel that it's the necessary push the characters in denial need to realise their feelings.
Here is the list of juicy yaoi that must not be missed!
Hitorijime My Hero
Setagawa Masahiro used to be gutless and push over. The troublemakers of school used him as an errand boy.
Masahiro's life changed when his saviour ''the Bear Killer'' or  Kousuke Ooshiba stepped up and put the thugs in their place.
Later Masahiro discovers that his hero is none other than his school maths teacher and the big brother of his close friend, Kensuke Ooshiba. 
The anime includes a second couple—Kensuke Ooshiba and his childhood friend that just returned to town, named Hasekura Asaya.
The romance between them booms when Hasakura confesses his true feelings to Kensuke.
What will become of the forbidden love? Will the lifelong friendship turn into love?
Doukyuusei 
What happens when an honour student is caught singing in class alone by the rebel of the class?
Kusakabe Hikaru catches his quiet and timid honour student, Sajou Rihito, butchering the chorus of a song for the school festival.
Kusakabe offers to help Sajou perfect his rhythm to impress their homeroom teacher. 
Sharing a sudden kiss causes their feelings for each other to stir up. The only thing standing in their way is Sajou's university entrance exam.
Will their fondness and love overcome the barrier their future throws at them? Will they be able to continue their lives as their new selves?
Dakaretai Otoko 1-i ni Odosarete Imasu
Imagine that you forged your whole personality and held the title of ''sexiest man of the year'' for five years. All of a sudden, a newbie with a tiny bit of experience steals it from you.
Saijou Takato has a nasty personality that he hides from the world as a successful actor. 
Still, the newbie and cunning co-worker, Azumaya Junta, decides to record him when he is drunk and acting mean.
We know the unsaid rule of yaoi anime. Anything can lead to sexy times and offers.
In the heat of the moment, Takato offers his body to Junta for the silence.
Through his journey, he discovers that he is becoming used to Junta's reassuring presence.
Will Takato ever confess the feeling that bloomed for Junta? Will Azumaya leak Takato's footage?
Hyperventilation 
The short anime consists of 3-minute episodes. For a quick dose of yaoi, this anime is highly recommended.
The high school reunion reminds Myongi of his bullies in high school that treated him like an outcast for having asthma, whereas Sunho used to be the athletic boy that always admired Myongi from afar.
Sunho notices Myongi's absence from the reunion and decides to follow him; they initiate a kiss in the back alley and take their steamy business home.
Myongi notices a ring on Sunho's finger. Did Sunho cheat on his wife with Myongi? Or
Was Myongi just a one night stand for Subho?
Yarichin Bitch Club
Toono Takashi and Yuu Kashima transfer to an all-boys high school and befriend each other; they mutually decide to join the photography club. 
Upon visiting the photography club, they discover the member's obsession with sex and yaoi. For gay people, it can be termed as heaven, while others may call it a sex addict club.
While Toono catches himself falling for Yuu, he still needs to digest the extreme personalities of club members and accept their tastes.
Each character in this anime has a fetish that they proudly exhibit. The show has only two OVAs. 
If crazy and bad is your type, this anime might sate your hunger.
Hora Mimi Ga Miteru!
Daisu lives a plain life as an unrecognised manga artist. His whole life takes a mischievous turn when he meets Myo.
The Cat-Boy Myo can turn into a cat and grow ears, it may sound cute, but it can cause a commotion when noticed in public.
Myo is carefree, and every day with Myo becomes eventful for Daisu; their time together blooms a flower of love in their hearts but can Daisu really gather the courage to confess his love to Myo?
Sasaki to Miyano 
Miyano is a 'fudanshi' - a boy who reads BL and watches yaoi anime. Due to his baby face and timid personality, people often bullied him, calling him a girl and weak. 
Miyano's life takes a turn when his senpai, Sasaki, saves his friend from the bullies. Since the day of their encounter, Sasaki becomes a hero to Miyano.
Miyano's dream of being closer to his senpai becomes a reality when he accidentally reveals his hobbies as a Fudanshi to Sasaki.
Miyano is taken back by Sasaki's openness to the idea of yaoi but lends him yaoi manga to read.
Sasaki returns to Miyano to borrow more yaoi manga, but he seems to have ulterior motives involving his kohai admirer. 
Are Miyano and his hero falling in love, or is Sasaki using Miyano to escape his school life?
Banana Fish 
The anime is borderline yaoi. Unlike many other yaoi, this anime has a heavy plot that still holds an impact on fans. 
A young gang leader meets a Japanese photographer who is completing his internship by covering the story of gangs and their origin.
Ash and Eiji get involved in an abduction accident, growing fond of each other.
Given 
Uenoyama notices an orange-haired guy escaping from class and napping like a cat in sunlight while tightly clutching his guitar. 
Accidentally woken up by Uenoyama, Mafuyu is scolded for not maintaining his guitar and leaving it to eat dust.
Deeply moved by Uenoyama's knowledge, Mafuyu convinces his guitar saviour to teach him to operate the guitar. 
They become closer to each other as they practice at the stairs, in a quiet spot.
Mafuyu's angelic voice captures Uenoyama's heart and realises that he is head over heels in love with the angel singing in front of him.
Will Uenoyama confess his feelings to Mafuyu? Will Mafuyu ever perform his song to a crowd?
We can't forget our classic yaoi anime that initiated our obsession, like Junjou Romantica, Sekaiichi Hatsukoi, Super Lovers and many more!
Yaoi anime are being animated more frequently than they used to be; This is a ray of hope for all yaoi enthusiasts. Which yaoi anime captures our heart?
---