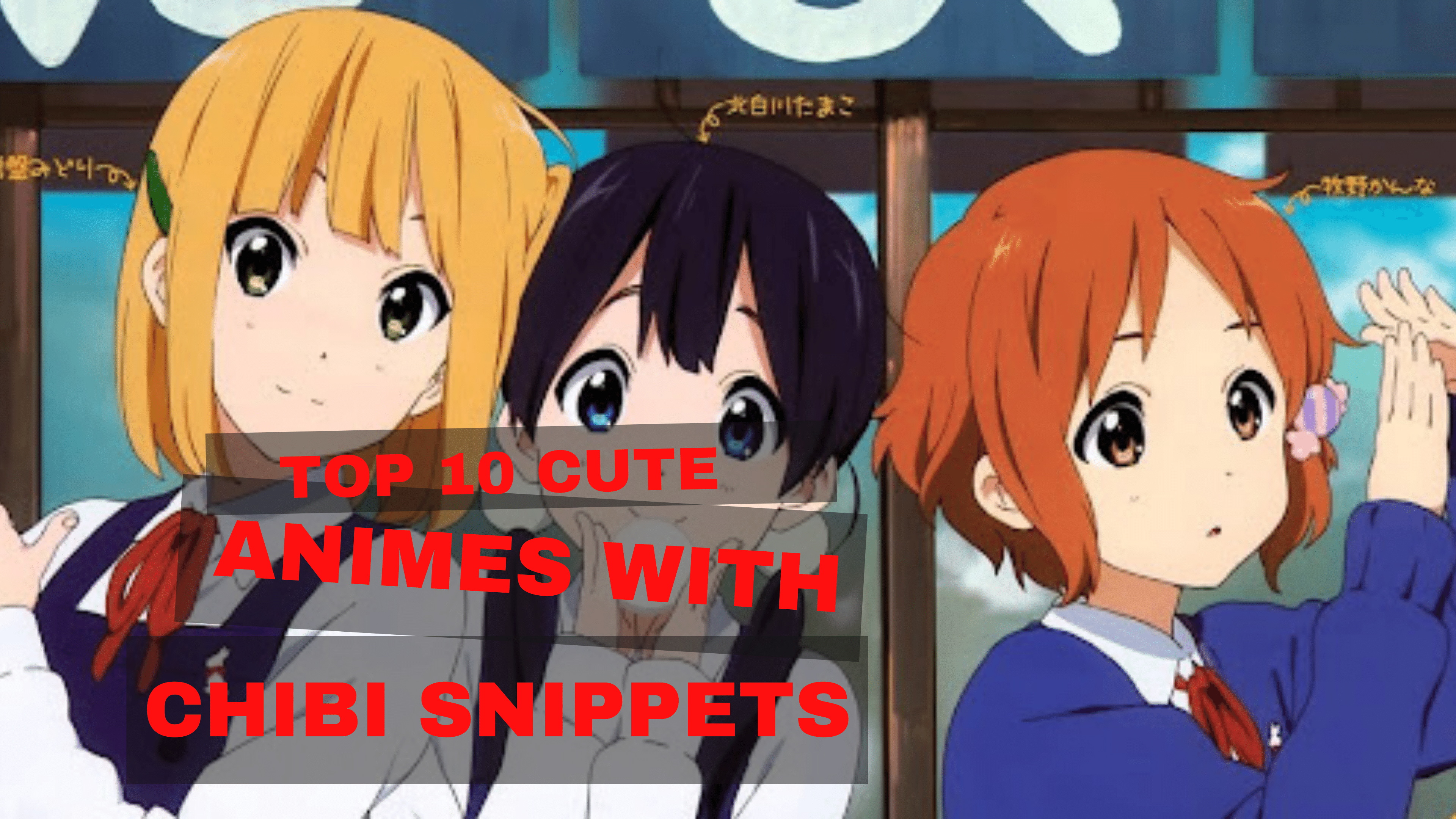 Jan 21 , 2022
The list of these masterpiece anime that's going to give you an addiction to cute animes you didn't know you had.
What makes a cute anime?
The Japanese criteria for being cute revolves around having big eyes and a small mouth. We can't blame them for it because this criteria works and we find ourselves captured by the cuteness of anime characters.
There isn't a single thing these anime characters lack when being cute is the criteria. 
They are small, big eyed, soft, and cuddly! What else can we ask for?
Let's get the list of cuteness started!
Horimiya 
Horimiya is an anime that we can easily rank as wholesome and cute.
It comes in the genre of comedy, romance, and a slice of life. 
If you are looking for something cute with a unique sense of humor, this anime is a perfect choice.
Miyamura and Hori may look like they live in a completely different world, both of them lead second lives. 
The persona they show at school is a lot different than that in real life.
Fate brings these two together, making them the cute chaotic duo of the class.
Aakkun to Kanojo
In the list of short cute anime, This anime wins the top!
Aakun is obsessed with his girlfriend, he even considered her a literal angel from heaven.
Aakun appears calm and composed, sometimes even cold heart towards Non but the truth is that he uses every ounce of power in him to keep himself composed in front of his favorite person in the whole world.
My sweet tyrant is a perfect anime that tells a story of unique high school love with a chibi girl as sweet as candy and a boy that's too embarrassed to express himself.
Bungou Stray Dogs Wan!
Everyone must be familiar with the feeling of wanting to laze around and experience a peaceful day with clear skies and a good vibe.
That scenario is now just a fancy dream for Atsushi after becoming a part of the armed detective agency.
Every day at the agency is filled with chaos and adventures for Atsushi who is trying to spend his days as peacefully as possible.
Bungou Stray Dogs Wan! is the complete opposite of the main story anime Bungou Stray Dogs. 
It involves the same characters from the main story with a slight change. They are cute and chibi! 
In BSD wan! Cute little mischiefs are waiting to unravel in front of Atsushi as he strolls his city with his teammates. 
Tanaka Kun is Always Listless
Tanaka Kun is always listless and carries the genre of comedy, a slice of life, and high school life.
This anime is amazing to watch when you are feeling listless.
Have you ever tried being lazy for the day and enjoyed it? this anime is perfect for you!
When it comes to being lazy, Tanaka Kun can be the anime character that you can look up to.
This anime is about a protagonist who has zero qualities of a usual anime hero.
Being listless is the only lifestyle Tanaka chooses to follow. He has no energy to be bothered with the unsettling energetic world.
He is often accompanied by Ohta, his best friend who carries Tanaka from place to place, cuts Tanaka's food to bite size pieces, and even keeps him in check with doctor appointments. 
Even when Tanaka's motive is to avoid anything that needs effort, he miraculously gets tangled in everyday work with his closest friends.
Kobayashi San Chi No Maid Dragon
This anime is famous for its chibi character. So who is that cute anime chibi girl?
That's Kanna, a dragon from another dimension. who came to earth in search of her lifelong crush, Tooru san.
Kobayashi San's Dragon Maid, The title speaks about its plot. The daily lifestyle of the dragon maid, Tooru, is hectic like any other day. 
Tooru was found wounded in her dragon form after battling a god. 
Kobayashi found this wounded dragon when she was drunk and lost her way home. One thing led to another and Kobayashi ended up promising Tooru to live with her as a maid. 
Tooru experiences new adventures and human emotions that bring her closer to Kobayashi, leading to her happiness in an unknown dimension.
Gakuen Babysitters
If you are ready to get hit by extreme cuteness and baby fever, this anime is the best choice.
Due to the death of both Ryuuichi's parents, Ryuuichi becomes the legal guardian of his younger brother, Kotaro. The small and adorable toddler is immensely attached to his older brother. 
The sibling duo is taken in by Youko Morinomiya. The chairwoman of one of the top academies of Japan. 
The anime has :
Cute babies are cute, pure hearted, and clumsy.

An insight on the struggle of taking care of babies. 

A strong bond between two brothers that, despite the age difference, care for each other to death.

The little reserved toddler is learning to communicate and make new friends.


Hyouka
Oreki is a highly intelligent high school boy who loves to ''reserve his energy'' as much as he can.
His peaceful and quiet days come to an end when his older sister forces him to join the literature club at his high school to prevent the club from dying.
Chitanda, one of Oreki's classmates that joined the same club as him, is a curious and energetic girl.
Chitada was wrapped in a mystery that Oreki solved with ease. 
Now that he has exposed his detective abilities, Chitanda always rushes to Oreki with her cute and capturing eyes to get to the bottom of anything that piqued her curiosity.
Sono Bisque Doll wa Koi wo Suru
Gojou fell in love with traditional dolls and the art it takes to put together all the pieces to make a perfect doll the day he saw the traditional doll his grandfather assembled with immense delicacy.
Due to childhood trauma, Gojou is an introvert with no friends. He keeps to himself in fear that he would be judged by others for his hobby of making dolls.
When Gojou was secretly sewing clothes in the sewing club of his high school, he was found by Marinn, The girl that saw a beautiful doll dress in Gojo's hands and became his fan.
Marin loves cosplaying and she asks Gojou a favor of becoming her sewing partner.
Love, Chunibyo & Other Delusions
The 8th grade syndrome refers to a condition where people of mature age are incredibly imaginative and believe they have super powers just like a kid. Aka. a chunibyo.
This anime features a bunch of high school students that still believe they are from a different dimension with magical powers and abilities to cast spells.
The show is funny, cute, and easily ranks in the animes with most childish protagonists.
There is still a hint of romance between Rikka, the chunibyo girl, and his realist friend Yuuta that doesn't really sate our hunger for more romance but still keeps us hooked to the series.
Asobi Aobase 
Workshop of Fun is an anime that lives up to its name. It's filled with as much mischief and surprises as you can imagine.
The group of three high school girls,  Olivia, Hanako, and Kasumi are the leaders of pure unhinged chaotic energy. 
Even bland games like rock, paper, and scissors, are an adventure when it involves these three.
From pretending to be foreign, not understanding literature, playing 'look the other way' and playing pretend these girls will not let you spend a minute without laughing.
Just this list of cute anime is enough to keep me hooked for a week and satisfy my hunger for cute animes. Do let us know about your favorite anime in the comment box!
---