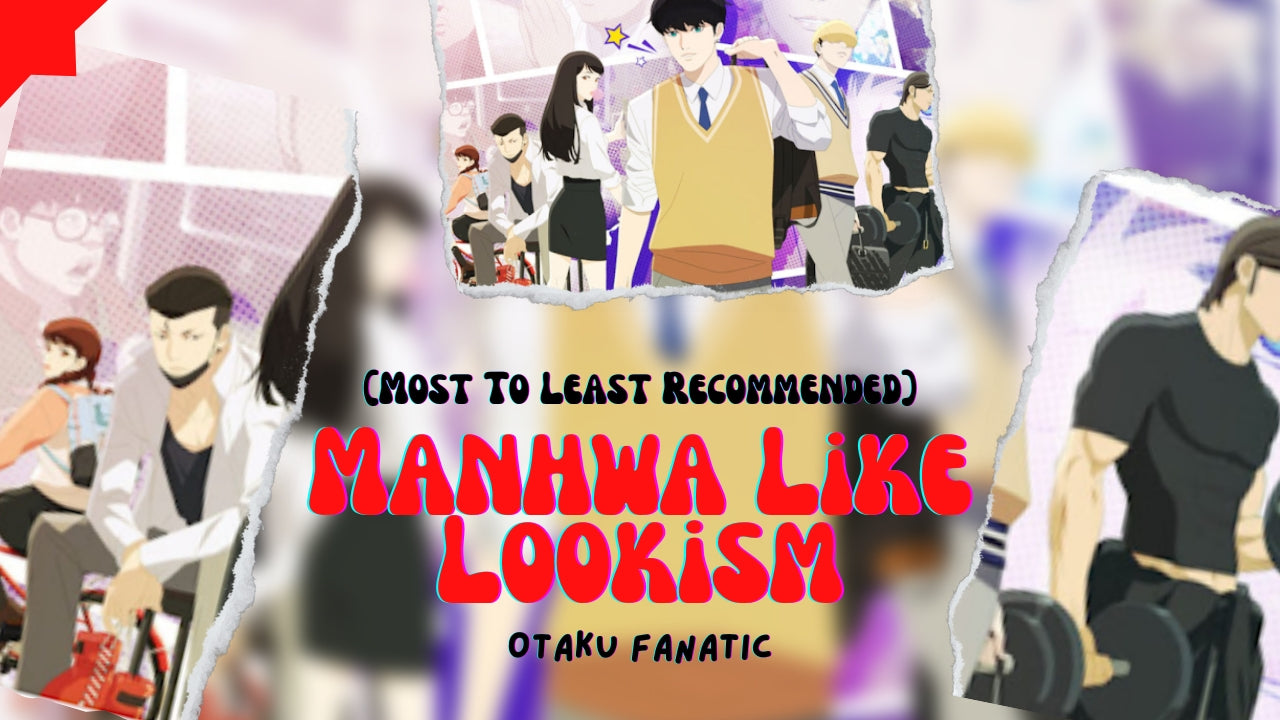 Jan 28 , 2023
Lookism is one of the Korean comics highlighting society's truth. It brings out humanity's ugly side if you enjoyed Lookism! Here are some manhwa like Lookism that you will love!
What Aspects Does A Manhwa Like Lookism Have That Make It Popular?
Lookism focuses on society's realities and people's biased conduct towards visually attractive people in society.
The manhwa's auther Park Tae Joon Fulfils every reader's request with his original characters, intense fight scenes, and different storylines of each character revealing new and ugly sights of the world around us. 
Even if the fight scenes are incredible and flowy, the fans only have one complaint, they are hungry for more storylines with their favourite character, Daniel.
 We know the story will circle back to him, just like the Netflix adaptation of Lookism that focuses on Daniel, which only increases the craving to see Daniel in the manhwa.
Here Is The Long-Awaited List!
This list of manhwa like Lookism is the most refined manhwas picked by fans all across!
#1 Weak hero 


The manhwa debuted in 2019, and the premise of a weak hero is similar to Lookism.
The manhwa tells the story of a hero who pledges to dismantle the clan of bullies in school and restore peace and justice for the sake of his classmates. The catch is our hero is small in height with the most unthreatening face and fighting skills of a master.
The plot of this manhwa is easier to follow than Lookism because the storyline of Weak Hero meshes together, so the hero gets more screen time in the manhwa. 
#2 UnOrdinary 


This manhwa is all about the society and its biased rules. The manhwa is established in the universe where few individuals have special abilities, and some don't. 
The MC is helpful and always stands in the way of injustice. What does he get in return? He gets no recognition from his surroundings.
Among all this chaos, the MC is determined to unravel the twisted hierarchy and establish equality.
#3 Bastard 


A highly recommended manhwa by author Hwang Youngchan with its ever-thrilling storyline, the manhwa is promised to keep you hooked and always on your edge.
Seon Jin has spent his life in a monotone manner. The only thrill was his back-and-forth route between his home and work. 
A turn of events revealed his father as a psycho serial killer controlling his life with his sly techniques.
This frail boy is now faced with the biggest threat that lives in his home. 
#4 Solo Leveling 


This series has gained popularity as a power fantasy with great visuals and intense fights. 
The story revolves around the universe where portals open up, and the most powerful demons pass through these gateways.
At the same time, individuals of this universe gained supernatural abilities to combat the demons that are led into their universe through the portals.
Our protagonist is the weakest hero of all these gifted individuals or, in better words, the world's weakest hunter. How will he rise to the top?
Solo Levelling is the top pick for manhwa like Lookism, and to top it all off, Solo Leveling is also getting its anime adaptation in 2023
#5 The World Is Money And Power 


Gunwoo Dhan is transferred to a dysfunctional high school where he plots ways to top gambling and mind games that rule this high school.
The school is filled with entitled brants flaunting their family money, creating a pseudo-ranking system established in the school, openly calling shots to gamble.
 On the other side, the genius mind of Gunwoo Dhan has everyone clasped at their necks. Each battle has the highest stakes, and our protagonist is ready. Will he restore justice?
#6 Gosam Mussang


This manhwa has a lot of martial arts-themed fight scenes that are similar to manhwa, like Lookism.
The story revolves around high school students discovering something strange with their bodies. They are completely robbed of their strengths and can't even lift a glass of water. More importantly, they discover that they have been hibernating for six months.
The protagonist and his best friend make a funny and unique duo, while the protagonist is completely unaware of the amount of strength his body posses.
#7 Omniscient Reader


manhwa, like Lookism and Omniscient Reader has a small difference in viewpoint and fantasy; otherwise, they are rumoured to be similar.
Dokja loves to read, and his favourite book, "three ways to survive the Apocalypse'', is his new interest until the book becomes a reality.
Now Dokja is the only one aware of the end of the world he is living in. Would he be able to save the world with the knowledge he gathered from his book, or will he accept his fate and perish like the rest of the world?
The finest picks of Lookism fans ends here! I hope you guys found what you've been looking for. If not! You can always circle back to otakufanatic.com for more recommendations!
---