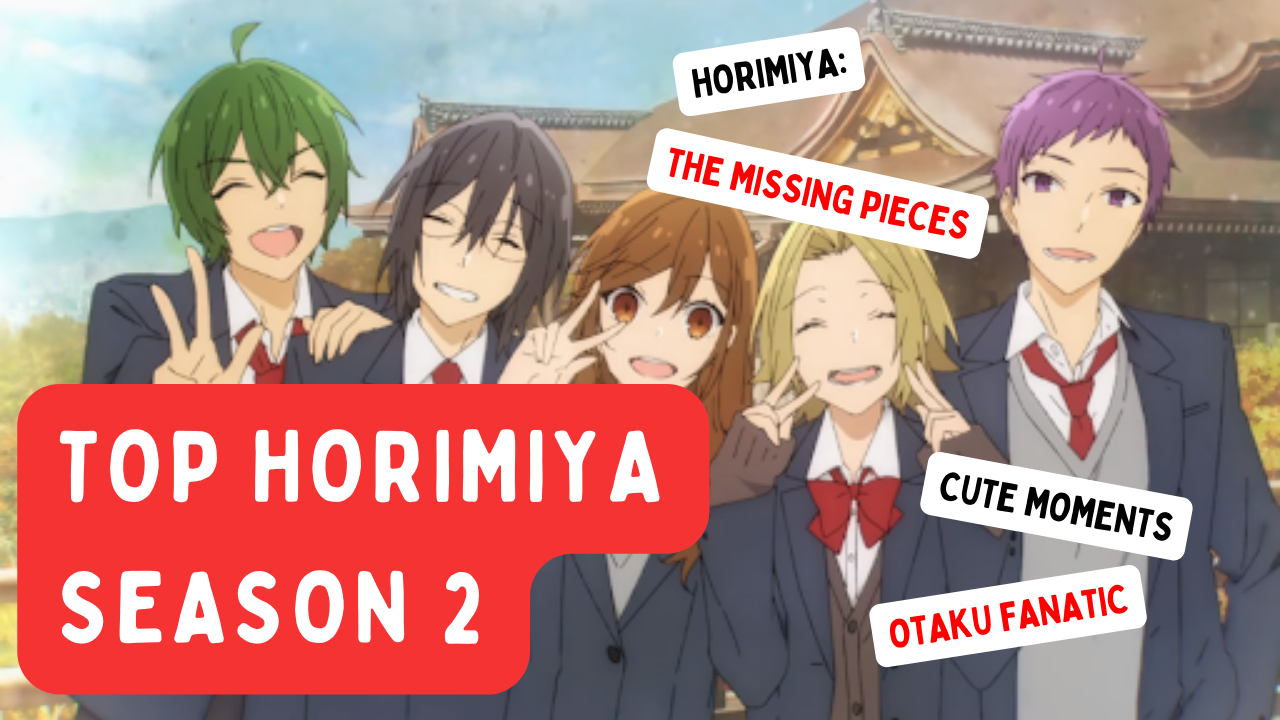 Aug 17 , 2023
 The top most enjoyable cutest moments in Horimiya season 2 ( Horimiya: The Missing Pieces), the list of cute couple moments, and their best interactions!  
Horimiya: The Missing Pieces, also known as Horimiya Season 2, was adapted to anime by studio Clover Works. The manga is written by HERO and illustrated by Daisuke Hagiwara. 
Horimiya: The Missing Pieces were aired on July 1, 2023. Horimiya Season is focused on the parts of the manga that were not animated in the first season. The anime episode contains small skits and wholesome scenes.
The Cutest Moments Of Horimiya: The Missing Pieces (Episodes 1-5 )
Episode 1 
1- Locked In
What happens when the roommate that picked up the hotel room key locks the door and falls asleep?
We can all look at Miyamura and Ishikawa and feel sorry for them. Iura fell asleep and locked them out for a whole.
 It's all good because he received a good nagging from Isikawa when he woke up.
The little chaos was worth it because we got to see sleepy Iura. 
2- The Bathroom Crisis 
When Miryamura couldn't go to the boys' shared bath, Hori offered to help him by letting him use the shower in her room because Miyamura was in a "tight spot."
This tickled Miyamura's jealousy and provoked him to ask if she would do the same for other guys.
That isn't the case, of course; his jealousness was a\satified when k]he knew he was the only exception that received favors from Hori.
3- Rather Sweat Than Swim.
The person Remi admires the most is the council president, Sengoku. He is slender and thin, so he always wears sweaters, even in summer. Sengoku also hates bugs but puts up a brave face whenever he is with Remi. 
Now, what makes Sengoku fight the hardest?
Swimming day. The boys need to partici[ate and Sengoku and Miyamura will be shamed for their slender figure and tattoos. They take up the cleaner's duty to escape swimming.
 Episode 2 
4- The Rain Dance 
How can Miyamura and Sengoku refrain from participating in sports day?
By summoning rain. It's better to turn to rain goods than hope for mercy from sports participation.
5- Did Hori And Miyamura Split?
They may be on the opposing teams for the sports festival, but mentioning that they are rivals will get you destruction threats from Hori.
They cheered for each other with love and good sportsmanship. This proves that love will 
always prevail between them when faced with problems, and for once, Miyamura felt motivated to participate in sports day.
6- Teaching To Cook 
Sengoku and Remi are the reason why their whole class of home cooking is at the beginner's level. They are the people who peel onions and potatoes to the point that they disappear.
With Sakura in their cooking group, she constantly looks out for Sengoku and Remi like a mom worried for her toddlers. 
7- Cold Legs And Miyamura's Jealousy 
Hori has always wondered what it would take to make Miyamura jealous.
Hori is painting the class sign for the sports festival, the weather is cold, and Mizouchi's coat is on her lap. Do you think her nonchalant boyfriend gets jealous?
Yes, he does, so he removes Mizouchi's coat from Hori's lap and replaces it with his sweater. However, it's cold outside, which means Miyamura is cold, so he wears Mizouchi's coat to keep warm.
Episode 3 
8- The Cheerleading Dress. 
A boyfriend's wish and our wish for Horimiya season 2 is to see Hori in a cheerleading outfit. 
Hori cheering for Miyamura might have been disappointing at first, with Hori performing in men's clothes. 
Still, in the end, while taking a group photo, Miyamura finally got a glimpse of cheerleader Hori, and all fell into place for Miyamura.
9- Sakura And Remi's Cheers 
Episode 2 of Horimiya: The Missing Pieces has set standards for friendships at a new height.
 Remi helping Sakura practice her cheerleading moves even though they belong to rival teams is peak girl power behavior. What was the drive that pushed Sakura to perform her cheerleading routine perfectly? It can be sportsmanship, but above all, it is friendship.
Episode 4 
10- The Cross Text By Shindo
The following is my favorite scene of Horimiya season 2.
Out of everyone, Hori has always felt jealous of Shindo. And when a message Shindo intended for his girlfriend, Chika arrived mistakenly at Miyamura's phone, and she sulked even more.
But all thanks to oranges and Miyamura's loving way of feeding Hori, with a cute peck, all balance is restored in Hori's heart. 
11- Slimy Fingers 
Hori loves to peel tangerines until her fingers get orange. This also means that she likes to feed them to Miyamura, leading to having slimy fingers due to him "cleaning her fingers."
Episode 5 
12- Iura's Admirer 
Dont you hate it when your crush comes over, and he gets swooned by your protective older brother, and now you and your brother dont know what to do?
If you question the reality of this scenario, then look at Shu and his little sister.
Shu wanted to look intimidated in front of his little sister's guy friends. Instead, he gained a fanboy.
13- Early At Being Late
The whole crew forgot that their classes started in the afternoon and rushed to school like a typical anime scene, bread slice in the mouth.
Sengoku broke the news that Miyamura, Iura, Yuki, and Tooru were earlier than the rest.
14- Iura's Biggest Fear 
Kitahara is now at Iura's school and aspires to join the Kitagiri high school as Iura's junior, the problem?
All that teasing he would receive from his friends. Because they already figured out and even met the boy who idolizes Iura. 
We only get a few chances to see Iura's stories and life; this episode is refreshing and entertaining because we see Iura and his sister interact and his calmed-down self at home.
Out of all these Horimiya moments, which one was your favorite moment of season 2? Please share with us at Otaku Fanatic. 
---