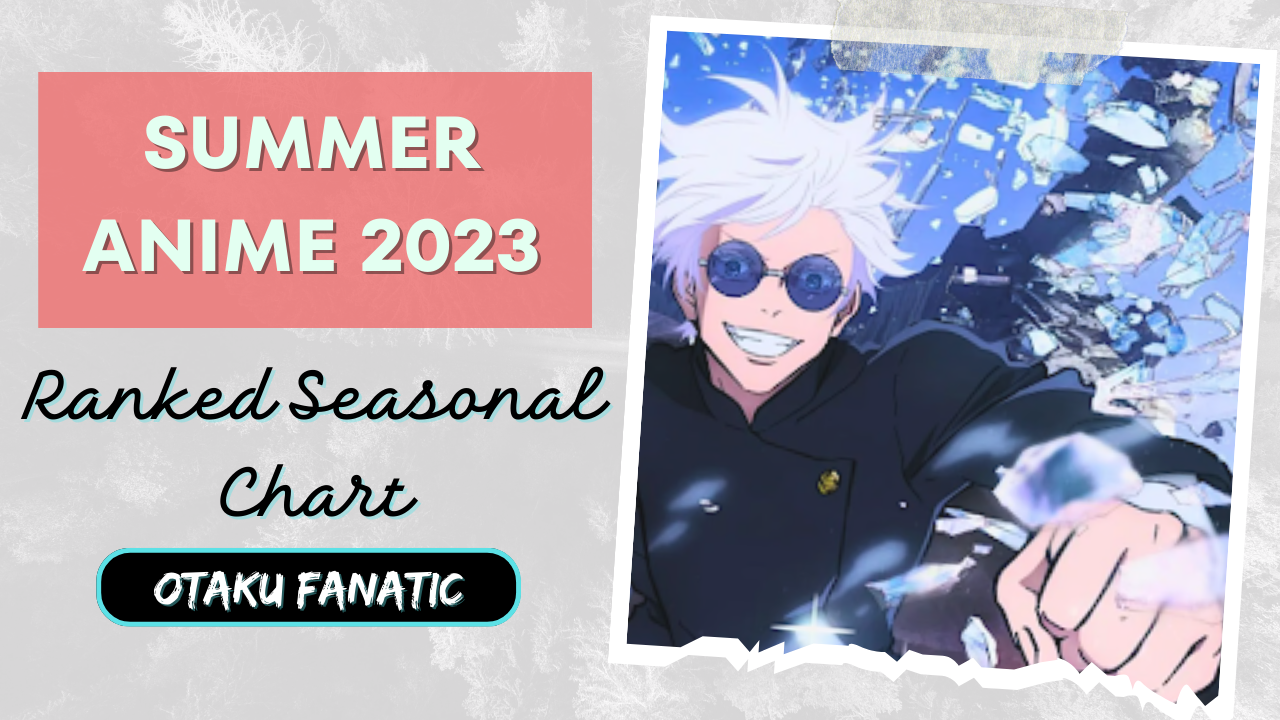 May 24 , 2023
 Summer 2023 anime filled with romance, thriller, and suspense are here. Summer 2023 anime seasonal chart of the top 10 most anticipated anime this season. 


Summer 2023 is here, and so is the list of most awaited anime that you need to watch this season!
10- Horimiya- Piece 
 
My favorite romance anime is back! All the manga readers who desperately needed the missed parts of manga animated are ready to binge! 
Studio Clover Works has heard our prayers! The anime will have all the missed pieces from the manga that weren't included in the 2021 TV series.
Buckle up for all the cuteness on our way; our favorite couple will give us butterflies in July of 2023.
9- Hataraku Maou-Sama!! 2nd Season
The Devil Is A Part-Timer!! Season 2 Sequel


The devil we know isn't found in the pits of hell. He isn't punishing sinners or misguiding believers; he is in Tokyo working hard at a fast food chain to make ends meet.
A warrior defeated the devil when he was inches away from conquering the world. To regain his powers, he retreated to the human world; with no skills to live among humans, he needed to work like regular humans.
Out of all summer 2023 anime, this funky supernatural comedy is on the complete side with 12 episodes that aired, but the sequel will be released in July of 2023.
 8- Suki Na Ko Ga Megane Wo Wasureta
The Girl I Like Forgot Her Glasses. 


Kaede Komura's deskmate, Ai Mie, is his biggest crush, the cute girl with glasses. 
For the longest time, Kaede believed in staying as an admirer and nothing more. Everything changed when she forgot her glasses.
Ai suffers from the worst eyesight; she has to bury her face in the book to follow up on what's happening in class. Thus the one-sided love of Kaede takes a twist.
The anime is scheduled for July 2023 by Studio Go Hand. Be ready; another great romance is on its way to raising your love standards.
7- Liar, Liar 
On an island called Academy, the students settle everything using games; they wedge their stars, and the highest rank, 7 stars, is the strongest among all.


Hitoru, a good-for-nothing transfer student, shakes up the whole Academy when he beats the lead empress in a game and gains the position of 7 stared student, the strongest student.
Studio Geektoys is ready to show you diverse characters with unique personalities. If you are looking for a quirky mind game anime for 2023 summer, get your popcorn ready in July this summer.
6- Bungou Stray Dogs (Season 5)
 
As the detectives of the Armed Agency get arrested one by one, the city of Yokohama loses hope of the armed agency proving its innocence.
Will Ranpo solve the case that alters time, space, truth, and reality?
All the agency members have their lives on the line to save the Armed Agency's name and prove their innocence.
 Bungou Stray Dogs captivates the audience with its blend of action, suspense, and literary intrigue. 
Season 4 left its fans on a cliffhanger, but the public is happy to get a new season on the list of summer anime 2023.
5-  Uchi No Kaisha No Chiisai Senpai No Hanashi
My Senpai From Work Is Tiny And Cute.


Shinokai is now used to being spoiled by Katase Shiori. He wishes she likes him as much as he likes her, but Shinozaki is taking his steps very carefully, given the caring nature of his senpai.
The hectic office work doesn't feel like work for Shinozaki because of his caring senpai. 
The anime is all about the burnt-out office worker and his cute, tiny, and caring senpai.
The summer 2023 anime season is our lucky time for those who crave office romance. This July, a quirky and steamy workplace romance awaits us! 
4- Matsume Kun No Revenge R
Matusme Kun's Revenge R


Matsume used to be an overweight, chubby boy, rejected by Aki harshly because of his appearance. 
Now, he has changed his appearance and lost a lot of weight. He is ready to make the young Aki fall for him to get his revenge and break her heart as she did.
The petty romance has now taken a turn, and Matsume's heart is changing because of Aki's charms. 
The second season is scheduled for July 3, 2023. the famous harem is being animated by studio silver link. 
3- Zom 100: Zombie ni Naru made ni Shitai 100 no Koto
Zom 100: Bucket List of the Dead


Summer Anime 2023 is all about resting and having fun. Work feels like a load. However, Akira takes it all to another level.
Akira Tendou, a broken-spirited salary man, sits among garbage bags because he is too tired to clean or experience another day at his exploitative company.
The next morning he starts his pathetic life, where he can't even confess his feelings to Ootori, but things have changed. Akira gets the best news! 
The world is experiencing a zombie attack! Now he has to fight for his life and survive, but Akira is happier than ever!
2- Undead Girl Murderer Farce 


The seasonal summer 2023 anime chart will be complete once a chilling supernatural mystery is involved.
The famous detective, the cage user, solves the most complex mysteries. The birdcage is rumored to carry the unspeakable monster, but doesn't that make the cage user a more fierce and horror devil? 
The anime is going to release on July 2023 as the cage user travels the world to unravel mysteries along with his loyal maid searching for the body of Aya Rindo, a demon whose severed head is the only proof left of its existence.
1- Jujutsu Kaisen Season 2 


The animated arc of the most hyped and awaited summer anime, 2023, is here. Jujutsu kaisen new season will revolve around the fan-favorite duo - Gojo and Geto.
The Shibuya Incident Arc will be animated with 24- 26 episodes, including chapters 79 to 136 from the manga.
Mappa Studio is ready to stun us with amazing animation again on July 6, 2023.
The three top sorcerers, Nobara, Yuji, and Megumi, are ready to take on the new curses, while Skuna regains his powers faster than before.
Need to have your fill? How about trying out some sweet romance anime this summer? Here is a list you can get behind!



---